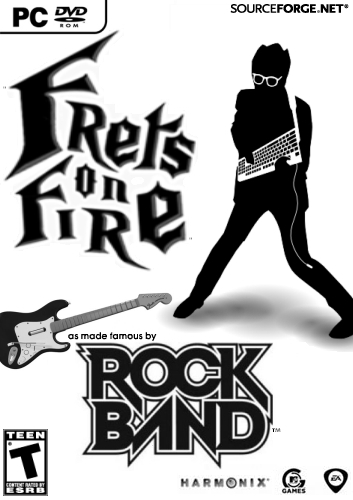 OS: Windows XP/Vista
CPU: Intel Core + 2 Duo, AMD 64 X2 5200+ or AMD Phenom
RAM: 512GB MB RAM or higher (Windows Vista requires 3 GB RAM)
HDD: 10 GB free disk space or more
Graphics: 64mb+
DirectX: Version 9.0c
Game features:
-- Feel this guitarist.
-- Replacement neck guitar.
-- 4 switchable appearance: Rock Band, Guitar Hero, Guitar Hero II, Guitar Hero III.
-- 4 levels of complexity.
-- Ability to serve as the guitar, and bass guitar party.
-- Ability to connect any controllers (guitar, joysticks), as well as games on the keyboard.
-- Support for multiplayer.
-- Full support of hammer-on and pull-off (HOPO) - delegates.
Installation:
1. Extract archive Frets on Fire Rack Band Edition.rar.
2. Obtained folder Frets on Fire better placed in C: / Program Files /
3. Go into the folder Frets on Fire -> then go to Folder Data
4. In this folder create a new folder Songs (not to be confused with the existing folder Sounds)
5. Open folder Rock Band Songs and copy all the folders created songs in a folder Songs
6. Start the game, go to Settings -> Songs List Settings -> Select Songs Library -> enter the Songs created a folder
and click Accept Folder
7. Play!

Code:

http://www.filefactory.com/file/de8d5f/n/fofbe-by-dreadfear-cw-network_info_part04_rar

http://www.filefactory.com/file/8d8e2e/n/fofbe-by-dreadfear-cw-network_info_part03_rar

http://www.filefactory.com/file/2d2e24/n/fofbe-by-dreadfear-cw-network_info_part02_rar

http://www.filefactory.com/file/c07a1b/n/fofbe-by-dreadfear-cw-network_info_part01_rar

http://www.filefactory.com/file/ed2fc1/n/fofbe-by-dreadfear-cw-network_info_part06_rar

http://www.filefactory.com/file/da5c7f/n/fofbe-by-dreadfear-cw-network_info_part05_rar

http://www.filefactory.com/file/272fa8/n/fofbe-by-dreadfear-cw-network_info_part08_rar

http://www.filefactory.com/file/dab544/n/fofbe-by-dreadfear-cw-network_info_part07_rar

http://www.filefactory.com/file/af2675/n/fofbe-by-dreadfear-cw-network_info_part13_rar

http://www.filefactory.com/file/aeb8fc/n/fofbe-by-dreadfear-cw-network_info_part14_rar

http://www.filefactory.com/file/527501/n/fofbe-by-dreadfear-cw-network_info_part12_rar

http://www.filefactory.com/file/e0b0ff/n/fofbe-by-dreadfear-cw-network_info_part11_rar

http://www.filefactory.com/file/6e145e/n/fofbe-by-dreadfear-cw-network_info_part10_rar

http://www.filefactory.com/file/f3432c/n/fofbe-by-dreadfear-cw-network_info_part09_rar

http://www.filefactory.com/file/8f15b0/n/fofbe-by-dreadfear-cw-network_info_part16_rar

http://www.filefactory.com/file/ece36e/n/fofbe-by-dreadfear-cw-network_info_part15_rar

http://www.filefactory.com/file/06ad54/n/fofbe-by-dreadfear-cw-network_info_part18_rar

http://www.filefactory.com/file/d91cee/n/fofbe-by-dreadfear-cw-network_info_part17_rar

http://www.filefactory.com/file/829804/n/fofbe-by-dreadfear-cw-network_info_part24_rar

http://www.filefactory.com/file/147741/n/fofbe-by-dreadfear-cw-network_info_part20_rar

http://www.filefactory.com/file/fa78a9/n/fofbe-by-dreadfear-cw-network_info_part21_rar

http://www.filefactory.com/file/951b5c/n/fofbe-by-dreadfear-cw-network_info_part23_rar

http://www.filefactory.com/file/642b18/n/fofbe-by-dreadfear-cw-network_info_part22_rar

http://www.filefactory.com/file/24e3a5/n/fofbe-by-dreadfear-cw-network_info_part19_rar
Admin




Messages

: 20


Date d'inscription

: 02/11/2008



---
Permission de ce forum:
Vous
ne pouvez pas
répondre aux sujets dans ce forum